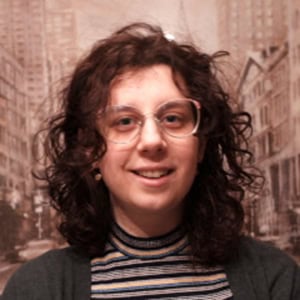 ---
Research Interests
Economics of Science, Economics of Innovation, Network Science, Text Mining, Energy Economics
Short Bio
I received the PhD in Economics, curriculum Economics and Complexity, in January 2019. During my PhD, I studied indicators of interdisciplinarity and novelty in science and technology and I spent seven months at the Department of Network and Data Science of the Central European University (Budapest) as a visiting PhD student. I hold a Master of Arts in Economics and Complexity at the Collegio Carlo Alberto and a Master's Degree in Theoretical Physics at the University of Turin.
Education
PhD "Vilfredo Pareto" in Economics, University of Turin (2015 – 2019)
MA in Economics and Complexity (MADAS), Collegio Carlo Alberto (2014)
MSc. in Physics – Theoretical Physics, University of Turin (2013)
BSc. in Physics, University of Bologna (2011)
Work in Progress
How many roads? An exploration of interdisciplinarity research (with Battiston F., Fontana M. and Sinatra R.)
Novelty as knowledge recombination
The structure of knowledge diffusion in time and space: the making of the EU research area (with Fontana M., Guerzoni M. and Papp A.)
Publications
Switching behavior and the liberalization of the Italian electricity retail market. Logistic and mixed effect Bayesian estimations of consumer choice, Energy Policy, Forthcoming (with Fontana M. and Nava C.)
Paths and processes in complexity electricity markets: the agent-based perspective, In: Handbook of Energy Economics, Forthcoming (Sciullo, Vallino E. and Fontana M.)
A bridge over troubled water: interdisciplinarity, novelty and impact, Department of Political Economy, Working Paper no2, Cattolica University, 2018 (with Fontana M., Montobbio F. and Sinatra R.)
Barrier to switching in retail electricity markets: a regional analysis of the Italian market, In: Smart and Sustainable Planning for Cities and Regions, Green energy and Technology, Springer, 2018 (Fontana M., and Nava C.)
A Reputation-based Distributed District Scheduling Algorithm for Smart Grids, EAI Endorsed Transactions on Cognitive Communications, 15(2), 2015 (Borra D., Borean C. and Fagnani F.)
Others
European Commission Tender: The analysis of socio-economic drivers of switching behaviours in retail electricity markets (June-Sept. 2018).
Expert for European Commission, Joint Research Center – Institute for Energy and Transport, Energy Security, Systems and Market Unit, Petten (Sept.-Dec. 2015).